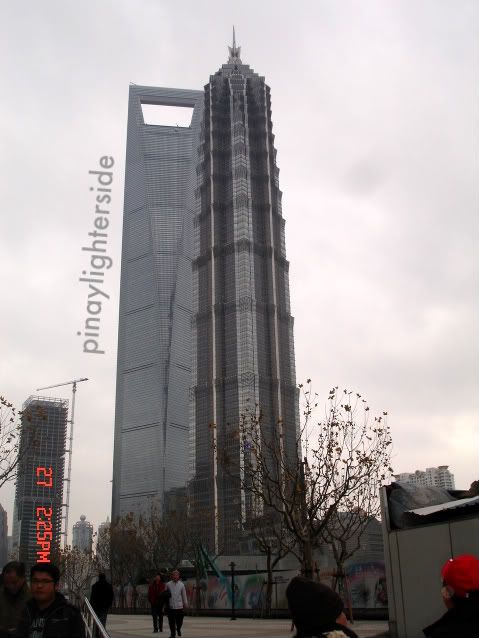 Each time I travel, I marvel how other countries have gone so far ahead compared to my home country, Philippines. We just came back from Shanghai and there was so much to see, to marvel and consequently, to hope for my country. I know we have the skills, the talent, the perseverance and the people who can make the Philippines like what is Shanghai now. There is hope, if only we could all work together and set aside our personal differences and greed.
In case you think the picture is of one building, look again because it is not. The one on the right is the Jin Mao Tower with its spires and the one on the left is the Shanghai World Financial Center with its trapezoidal hole at the peak.


Shanghai World Financial Center consists of offices, hotels, observations and shopping malls. It is the second tallest building in the world and has three observation decks. Its highest observation deck is also the highest observation deck in the world at 1,555 ft high on the 100th floor. The skyscraper has 33 elevators and has 101 floors. (Source: Wikipedia)


On the right is another well-known Shanghai skyscraper, the Jin Mao Tower. It is a 88-story skyscraper in Lujiazui, Pudong, Shanghai. Just like its neighbor, Shanghai World Financial Center, Jin Mao Tower has an observation deck, hotels, shopping malls, offices and commercial spaces. (Source: Wikipedia).