Like most Filipinos, I love festivals. We all know that Filipinos to celebrate. The fiestas are the colorful proof for our penchant for celebration. It's no wonder that almost every barangay celebrate their own fiestas.
My favorite festival is of course our city's very own Kadayawan Festival which is usually held every 3rd week of August. The festival started as a celebration by the indigenous people of Davao during the harvest season. It evolved into a celebration for the indigenous people. During this time, indigenous people converge in our city along with the locals and tourists to celebrate.
Here is a photo of one of the participants in the Kadayawan festival's Indak-indak sa Kadalanan (streetdancing) contest.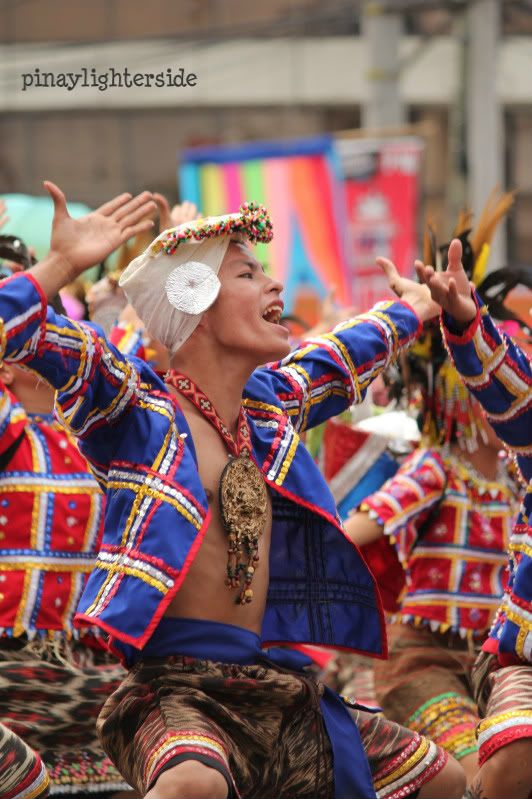 For the Philippine festival that I really want to go to, it is the Pahiyas Festival in Quezon Province. Some facts about the Pahiyas festival are here..
(source: http://www.pahiyasfestival.com/home/about-the-pahiyas.html)
The San Isidro Pahiyas Festival held every May 15 has become one of the country's tourist attractions prompting the Department of Tourism to list down Lucban as a tourist town and a cultural heritage site.
The most traditional and certainly the most attractive décor comes of course in the form of "KIPING" which are adorn and strung together to form all sorts of shapes, from chandelier called "ARANGYA" to huge flowers. Kiping is made from ground rice flour, shaped using "cabal" leaves or other leaf forms and colored in radiant red, fuschia, yellow, green and other bright shades. When kiping catches the light of the sun it turns into a veritable cascades of color.
The celebration is a form of thanksgiving for a bountiful harvest and in honor of the patron saint of farmers, San Isidro de Labrador. A procession of the image of San Isidro is planned long before the festival and it is said that houses along the route of the procession passes will be especially favored and blessed in the coming year. It is from this belief that the lavish decoration of the home began.