It was a relief to see that we were too early for the evening crowd when we arrived in Coffee Cat Cafe that night. Coffee Cat Cafe is situated along Torres St., Davao City. It is one of the newly-opened cafes that have sprouted ubiquitously all over the city this year.
We were able to choose our table and took our time in getting our orders. Instead of the usual order of coffee, I decided to try their yogurt icecream brand, Yogo.
I wanted the original taste but the crew was persuasive enough to get me to order their green tea flavor. With a small sized cup and two toppings (mango and oreo cookies), I shelled out P110.00 for that yogurt. Penny-pincher me was thinking at that time that I could have had four to five same sized yogurt cups if I bought them at the grocery store. But heck, we only live once might as well try the P110.00 yogurt :)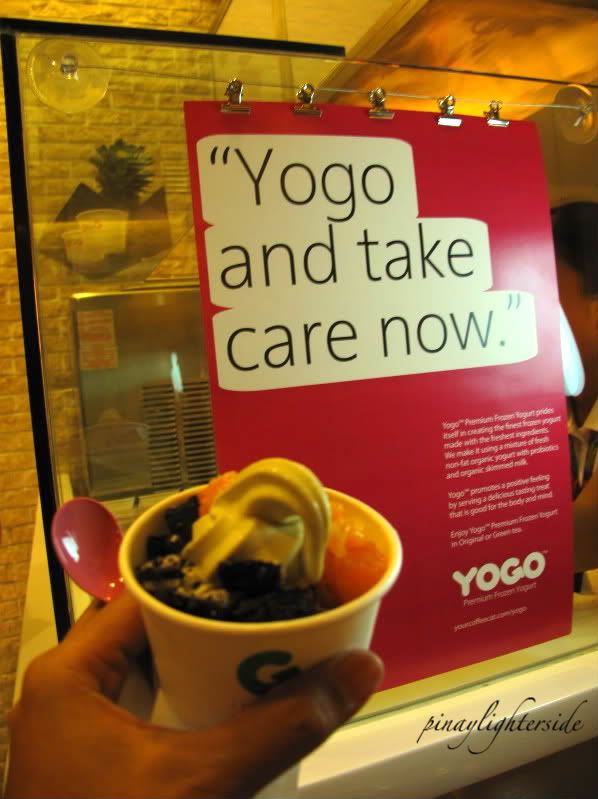 It tasted good but the original flavor tasted better. We were able to compare because one of my friends ordered the original flavored yogurt.

All in all, Coffee Cat Cafe is a cozy place to unwind. It is one of the more popular hang-outs of young professionals and college students which thankfully came in later that night while we were there. I have yet to taste the cafe's coffee but had a bite of their banana muffin which I am not digging.

The best banana muffin I have tasted so far was from Angel's Log in Malaybalay, Bukidnon. But that's another story....

This is my entry for..
Go
here
for more.