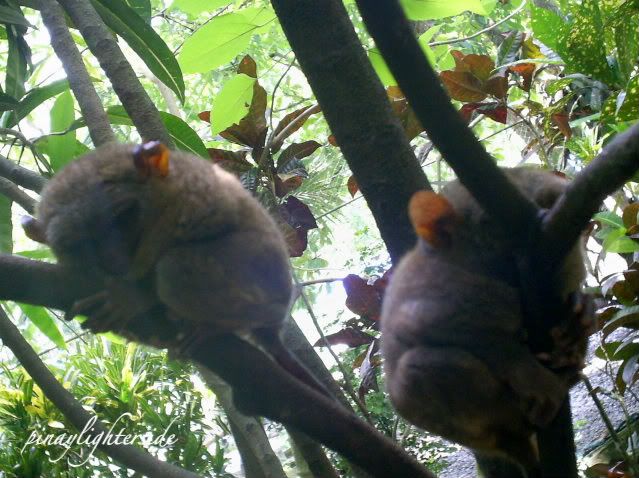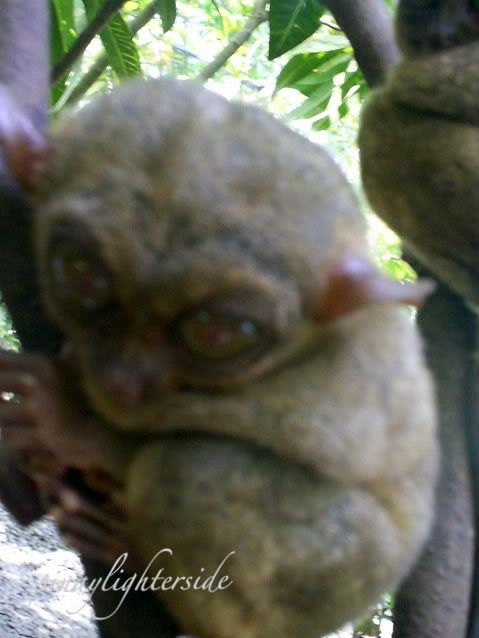 Under protection by law as it is considered endangered, the Philippine Tarsier is commonly found in the southeastern part of the Philippines.
It measures about 4 to 6 inches in height. Its eyes are fixed in its skull and its head can rotate at 180 degrees. The tarsier is considered to be the mammal with the biggest eyes. It is gentle, nocturnal, quite shy and solitary.
We took these tarsiers'pictures at the Loboc, Bohol's Tarsier Sanctuary captive display a few years ago. In the so called sanctuary, caged tourist viewing sites can provide visitors to see up close and interact with these mammals. I was actually surprised and worried to see them on display as tarsiers rest during the day and are only active by night to hunt for food. To have them caged and in close interaction with humans caused undue stress and disrupted their nocturnal lifestyle. As locals have said, these tiny mammals could actually commit suicide by banging their heads on their cages and/or by stop eating altogether.
I was really relieved and happy to hear that recently, the local government of
Bohol has prohibited the possession and display of tarsiers in the towns of Loay and Loboc. I really hope this law is being implemented properly and judiciously as these tiny mammals are not meant to be pets and should be left alone in their natural habitat.
This is my entry for:

For more photohunters, go
here
.