Pinaybloggers.com had their first Christmas Gift Exchange and last week, I got this surprise package. One of the books that I have been eyeing for months now is 1000 Places To See Before You Die.
Mari
was kind enough to give this Christmas gift to me. Thank you, girl!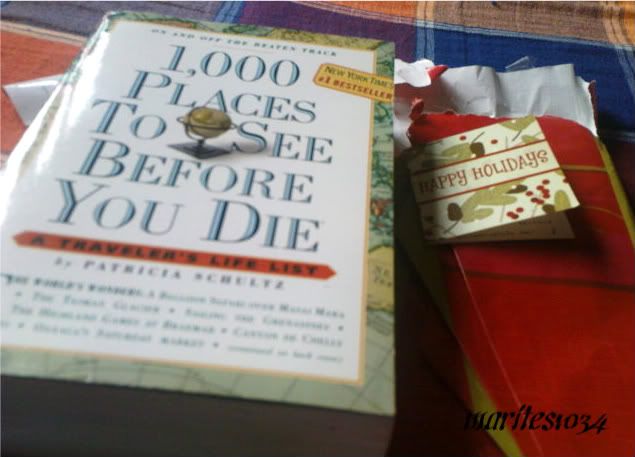 I just love this book by Patricia Schultz and if God permits, I would like to try to visit at least 25% of the places indicated therein. Mind you, I've already visited two of three Philippine entries featured by the book. I got a long way to go though and I am keeping my fingers crossed.
Years ago, along with my friends, I have visited Banaue Rice Terraces and the other year, I've visited again Taal Volcano. Of course, I want to revisit both places and explore more. As to the 3rd featured place, hm….perhaps, if I will win the lotto, I will be able to get there as it is known for being very expensive..the Amanpulo Resort, in Pamalican Island, Palawan.
Anyway, for those pinay bloggers who would like to connect with the others, go join www.pinaybloggers.com .