The truck and the grotto were the only ones left standing while the roaring winds blew everything off in their way. They hide and secured the baby inside the grotto while most of them crouched low and prayed hard inside their military truck. They were experienced soldiers used to attacks, skirmishes and ambushes but Pablo's fury was totally unpredictable and unmatched that one of them said that never did he pray so hard in his life until this typhoon came along.
After the winds calmed down, everything was so eerily quiet except for a few human stirrings of life and a few animal sounds of howling probably, animals keening for their lost loved ones. When the wind and rain settled, they saw that the devastation was so indescribably massive that one soldier said that he could even hear the monkeys crying after Typhoon Pablo decided to move away.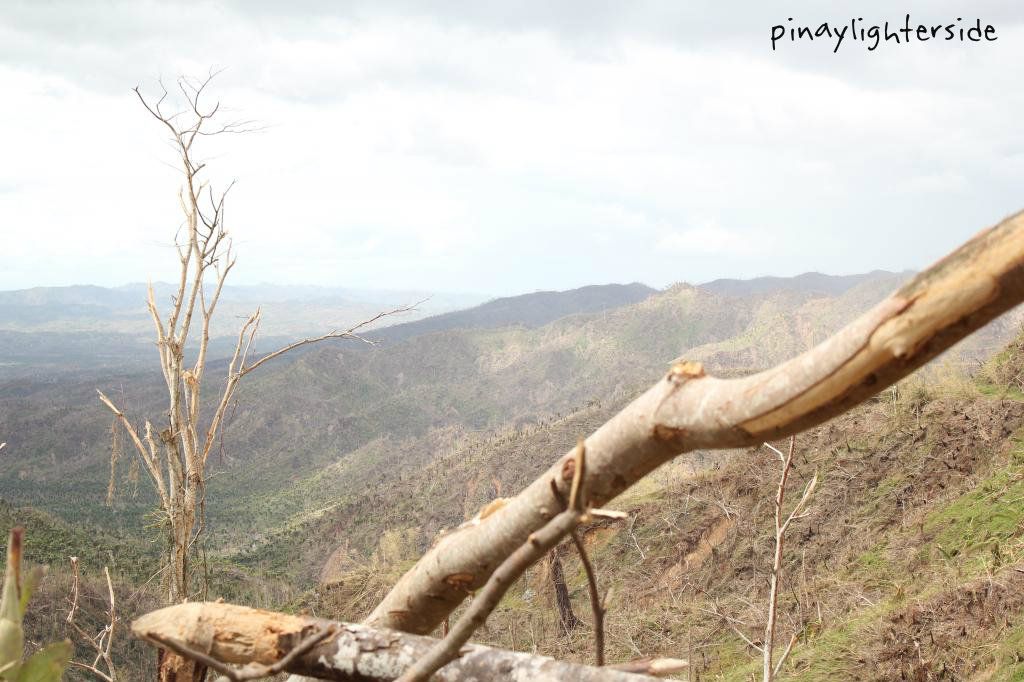 I passed through these lands innumerous times through the years. The green and undulating terrains dotted with big swath of lands of rice, tree and fruit farms were such that their nature's beauty during those travels were expectedly familiar to me. Mostly agricultural with dotted forest covers, these areas of Mindanao were not only fertile farm lands but also, rich with minerals. Not so, when I came back today.
The unfamiliar horizon that lay before us was monochrome-like, humid, forlorn and outworldly. Trees were thrown helter skelter like toothpicks everywhere, electric poles were transferred right in the middle of the street, ruined houses like they were made of chopsticks while some stood bare-roofed and not a few of these roofs were thrown some distance away. People, young and old alike, extend their hands begging by the roadsides.
Those were the scenes that greeted us as we made our way through the Compostela Valley Province, one of the provinces hardest hit by the Typhoon Pablo (international name: Bopha) on the first week of December. Our target destination was the small towns of the Municipality of Monkayo. Prior coordination with the military personnel assigned to the area was made and designated towns were targeted. We had about 500 relief packs of 2 kilos of rice, a few packs of noodles and canned goods. We also brought shoes and slippers and used clothings.
The travel to the military detachment that served as our relief distribution area was just about 15-20 minutes away, if they were good roads. But potholes created by the typhoon were like craters so big that they could easily fit the military truck. Debris of fallen trees, crumpled houses and downed electric posts punctuated the roads that we reached the area after almost an hour of bone-jarring, teeth crunching ride.
The people were already organized by small groups by their own local officials and by our military personnel escorts that only the weather of confusing interchange drizzles of rain and sudden hot sunshine made the orderly relief distribution much more eventful. A lot of them walked through the mountain roads to reach us and yet, they did not complain about it. Some were recognized by the soldiers as their rebel enemies but the relief packs were given equally without discrimination. We know that what we brought will only last for a day or two but the people were just as thankful and some even readily shared their typhoon stories to us.
A soldier said that he used to look out at the mountains and could not even see and hear what or who was out there in the forests but now he could actually see clearly so far that any rebel doing a reconnaissance on them is an easy target.
I could never reconcile the scenes I have seen today to what I have grown used to see on my previous travels to these lands. Probably, relief packs will arrive to these people from time to time to help them somehow get through their daily sustenance but recovery of their lands will take at least a year and some miracles to happen.